About the Ship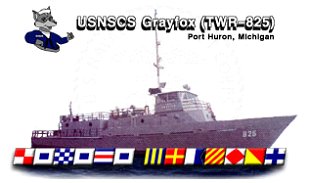 INTRODUCTION


Meet the Grayfox, a training ship used to offer our cadets training in all aspects of ship's operations. She is currently the largest Sea Cadet training ship in the United States and is cared for and maintained by all cadets in Michigan and sometimes even our ambassadors from the North, the Royal Canadian Sea Cadets. The Grayfox receives no financial support from the government. All money needed to operate the vessel comes from donations, grants, and fund raising activities conducted by the crew.



The ship is run by the cadets with the officers serving in a supervisory role also, we have regular Navy and Coast Guard personnel along with several civilians who volunteer their off duty time to assist us in our endeavors.


A BRIEF HISTORY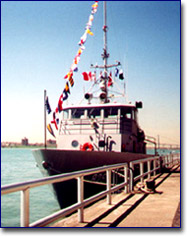 Built by Marinette Marine in Marinette, Wisconsin in 1985, she was one of ten 120-foot type Torpedo Weapons Retrievers. Designated USS Swampfox TWR 825, she was originally used to launch and retrieve test torpedoes and targets. It was assigned to the U.S. Navy Atlantic Undersea Testing and evaluation Center (AUTEC), Andros Island, Bahamas. Due to the changing development of underwater weapons, TWR 825 was no longer needed by the Navy. The ship was taken to Green Cove Springs, Florida, and placed into mothballs in 1995. It was here that the vessel was discovered by an enterprising group of sponsors who decided the Sea Cadets needed a ship to train on. A request was then made to the Secretary of the Navy to have her transferred to the Naval Sea Cadet Corps. Paperwork was set into motion, and TWR 825 was obtained on August 15, 1997. A group of 15 dedicated volunteers brought the vessel up from Florida. She arrived in Port Huron, Michigan on August 26, 1997 to a group of excited and anxious onlookers.



Since she had been cold and quiet for some time, the Grayfox needed a lot of attention. All of the torpedo rollers had to be removed from the after deck and returned to AUTEC. The ramp had to be welded over and she needed to be chipped and painted. Most of her systems required attention in one form or another. After a long winter of hard work by the cadets and volunteers, she was finally starting to look like a Cadet ship.



She was commissioned the United States Naval Sea Cadet Ship (USNSCS) Grayfox on 26 April 1998 at Hart Plaza in Detroit, MI, following services held at Mariners Church by the Reverend Richard Ingalls. The Christening Sponsor was Mrs. Jack Kennedy, wife of the former National President of the U.S. Navy League. She is now moored in Port Huron, Michigan.



At present time, the ship has berthing for 30 cadets and 7 officers. Our large berthing capacity is due to the extension of the main cabin. Because of this extension, the Grayfox is now accessible to all Cadets, male and female, for training.


The Grayfox Association is an exempt organization, duly qualified under Section 501(c)(3) of the Internal Revenue Code,
contributions to which are tax deductible in accordance with Federal law.

All Content &copy The Grayfox Association. All Rights Reserved.